Don't let the the word "oyster" in "Rocky Mountain oyster" fool you into thinking it's a briny bivalve. When it comes to these "oysters" (also known as Prairie Oysters), seafood is not involved.
In fact this dish originated in the North American West, far from any ocean. Created by ranchers, Rocky Mountain oysters are in fact, most famously, bull testicles. Though sheep, bison and pig can be used, too.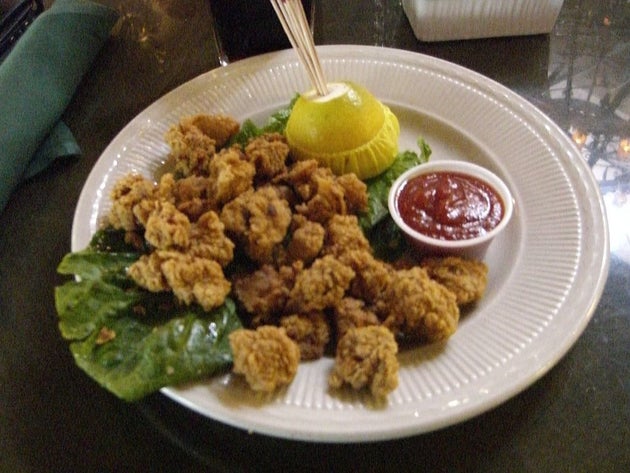 Let us explain how this dish came to be.
Ranchers annually dehorn, brand and castrate their spring calves this protects members of the herd from each other, and from injuring the ranchers themselves. At the end of a day of castrating, big ranches can end up with over a hundred testicles. In the spirit of not wasting, the ranchers made use of them by cooking and eating them. It just made economic sense.
Traditionally, the testicles were thrown on the branding coals or iron to cook, but these days they're more commonly breaded and deep fried. In Montana, there are festivals dedicated to this dish the most famous being Testy Festy, where 50,000 pounds of testes are consumed on average.
Rocky Mountain oysters are just one example of the culture of eating organ meat. In Peru, beef heart known as anticuchos is a common street food option. Calf brain is eaten in many countries. And in fact, the Rocky Mountains aren't the only place in the world that chows down on testicles.
If you're feeling ready to dig into offal, we have just the recipes you need to get started.
Read more: http://www.huffingtonpost.com/entry/rocky-mountain-oysters_us_57bedee8e4b085c1ff27d5dc?section=&